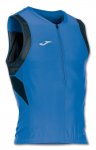 Duathlon sleeveless T-shirt mainly characterised by its comfort. A lightweight garment, fine, which adjusts perfectly to the body, aerodynamic but without applying undue pressure, very important for cycling. It acts like the sportperson's second skin. An anti-odour and anti-bacterial finish has been applied to the fabric, it is quick-drying and retains its shape all of which contribute to comfort, and will not lose its shape due to use.
Composition
Elastane 20%
Polyamide 80%

Pinch to zoom and view in any direction
Use the keypad or arrow keys to change image. Use the magnifying glass to resize images when it appears.