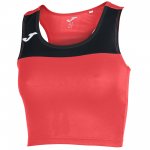 Tank top with forward shoulder seam that stands out due to its contrasting colour yoke and silkscreened logo. Features Micro-Mesh technology enhancing breathability for the sportsperson.

Swipe to change the image. Once zoomed in, move around the image using your finger to swipe in any direction.

Pinch to zoom and view in any direction
Use the keypad or arrow keys to change image. Use the magnifying glass to resize images when it appears.