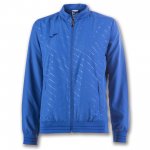 Jacket with inverted central zipper. It includes lining made of Micro-Mesh technology for greater breathability. Front with diagonally embossed design. Zipped pockets and ribbing at the collar, cuffs and lowdown for optimal fit.

Swipe to change the image. Once zoomed in, move around the image using your finger to swipe in any direction.

Pinch to zoom and view in any direction
Use the keypad or arrow keys to change image. Use the magnifying glass to resize images when it appears.