Valencia C.F. 2013/2014 kit presentation
As the official technical sponsor of Valencia C.F., Joma has designed and produced next season's collection for the team. It's made up of competition, training and casual wear, the entire collection will be available for all the fans to buy.
---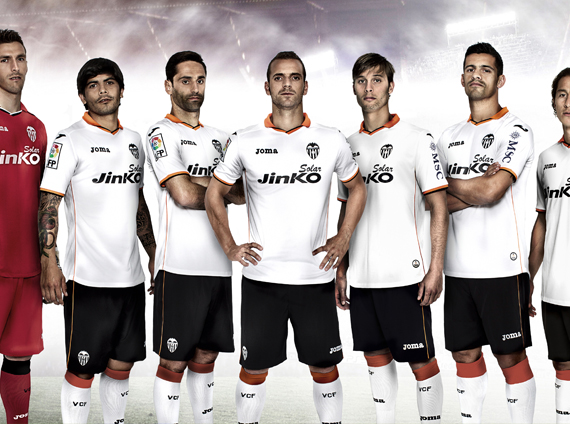 We are presenting the two match shirts with a common characteristic: the return to colours with a traditional Valencian feel, white, black and orange. The stand out part of the design is the use of the black and White badge. With this change Joma and Valencia C.F. have given the shirt a touch of class, distinction and above all elegance. The combination of white and black on the badge is completed with the Joma and Jinko Solar logos also in black and white. The advertising campaign that accompanies this presentation is called "dreaming in black and white", following the esthetic and elegancy of classic films. The second main colour is Valencian orange. After various years, the colour that makes the Valencians stand out returns. On the home shirt it is used on the neck and the sides of the shirt. On the away shirt it becomes the main colour. With this Joma and Valencia C.F. regain the true Valencian colour. The t-shirt has various details so the players will feel closer to the spirit of the fans. On the interior stitching of the base and the neck you can read "AMUNT VALÈNCIA", and the Valencian communities badge is stitched on the on to the back of the shirt. Two details that are exclusive to the Joma brand. At a technical level, the new t-shirts are made from the latest sports materials. The shirt has a semi- tight shape, a polo collar and an elastic v neck. Elastic is also introduced on the sleeves. All so the player feels comfortable with the small details. The material is 94% polyester with open weaving that gives the shirt a high level of transpiration. It allows for sweat to be expelled while keeping a constant body temperature. Anti odour and anti bacterial treatment are also applied. The 6% natural cotton gives elasticity to allow for easier movement and touch of softness. All the stitching, that is in contact with the skin is finished off with the FLATLOCK system so there will be a smooth contact and they won't cause irritation. The replica shirts that Joma and Valencia C.F. will releas are certified with the official product seal.