Juani Mieres sponsored by Joma
The world´s elite paddle player has joined Joma´s sponsorship to strengthen Joma´s position in this sport.
---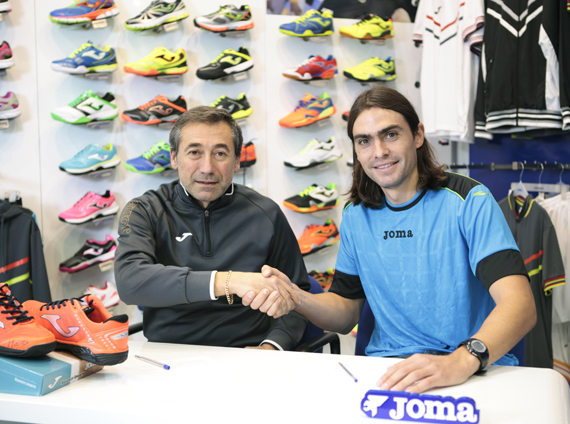 Juan Jose Mieres, one of the best paddle players at present, and Joma have signed a sponsorship contract during his visit the the Spanish multinational brand´s headquarters in Toledo, that join both for the coming seasons.
From now on, Mieres will use Joma shoes and sportswear in all of his matches. Mieres is, at present, Pablo Lima's partner and they participate in the World Padel Tour, and they have been Champion and Sub-champions in several opens during the last season.
Mieres was also World Champion in 2008 in Doubles and National Teams and Spanish Champion on several occasions. He is famous for his mental strength and versatility on the court, as well as being a person with a high standard of values that have brought him to the top in the world of Paddle.
Mieres represents Joma's strong investment in the world of paddle and its objective is to reach a high level of brand recognition in this sport , in a mid-term, in Spain and Argentina, where Mieres is an idol.
He joins Joma`s team of great paddle players, such as the Argentinians Martin Di Nenno and Franc Stupatuzck, World Champions in 2013 and considered as the two players in the circuit with the greatest projection, and José Antonio García Diestro and Juan Manuel Restivo, also at the top of the world ranking.