Avantia Racing New Collection
Joma's General Manager presented the new collection to the Team, at the 2013
AVINTIA RACING EXPERIENCE .
---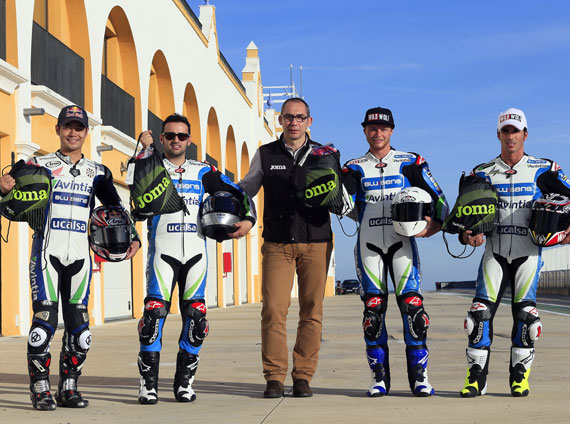 The new motorcycle season is about to begin, in circuits all around the World. For the second year, Joma is the official sponsor of Avantia Racing, which will compete with Barberá and Aoyama in MotoGP and Elias and Kyle Smith in Moto2. To start the new season, the Team made its official presentation in the Spanish circuit of Monteblanco, during the first edition of AVANTIA RACING EXPERIENCE, a fun day where not only the pilots and their sports plans were presented to the Press, Sponsors and Guests but also different games, activities and sports related to two and four-wheel vehicles were enjoyed. Joma's General Manager, José Manuel López, also took advantage of this occasion to make the official presentation of the Spanish Brand´s new collection. Joma will be the Team´s official sponsor for the second consecutive year. Avantia Racing is Joma´s first step into the world of motor sports. All the members of the Team, including Pilots and mechanics, etc. will wear Joma garments for traveling and in official acts.